Page 1 of 2

Another Boeing 777 airliner model papercraft template, this time I made British Airways triple seven (B777-23/ER). This Waterside based airline has 43 of B777-200ER airplanes. There is something new in its logo, a crown logo added beside British Airways logo. The template is exactly the same as previous B777-200 model, only different is on the livery. The assembly instructions is the same as well. For you who is not familiar with model with inner glue tabs perhaps find this model hard, but if you try it according to the instructions I'm sure you will find this method is easier than ordinary pepakura style glue tabs.
ASSEMBLY INSTRUCTIONS :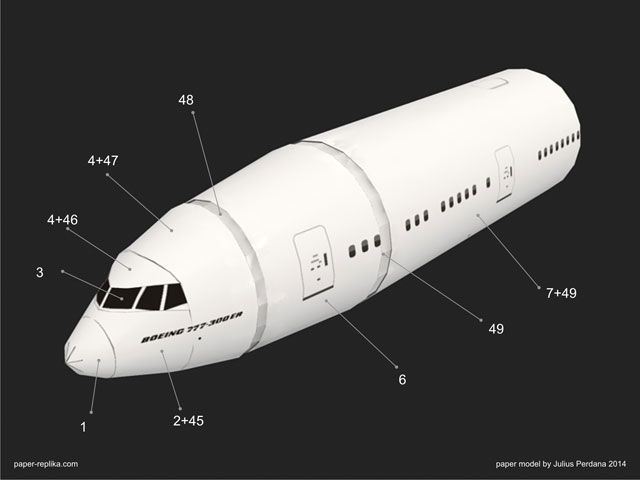 Assembly nose and front fuselage section by using inner glue tabs (45,46,47,48,49) inside the parts. You can use 100-120 gsm paper for all parts except for ribs and formers.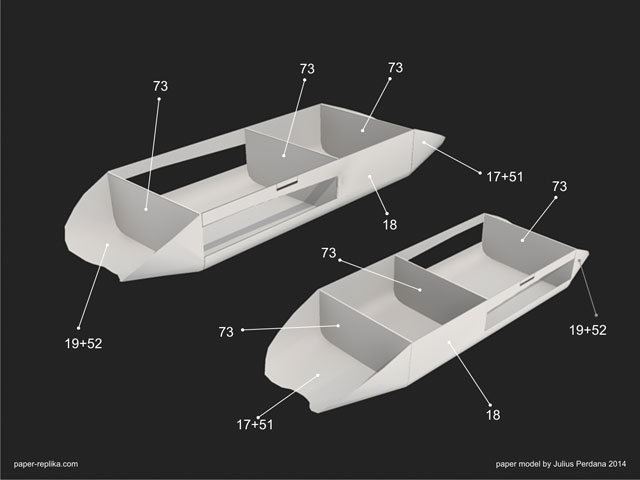 Assembly wing base, using formers (3 x 73) to form the shape. Use cardboard 0,5 - 1 mm thick cardboard for the formers.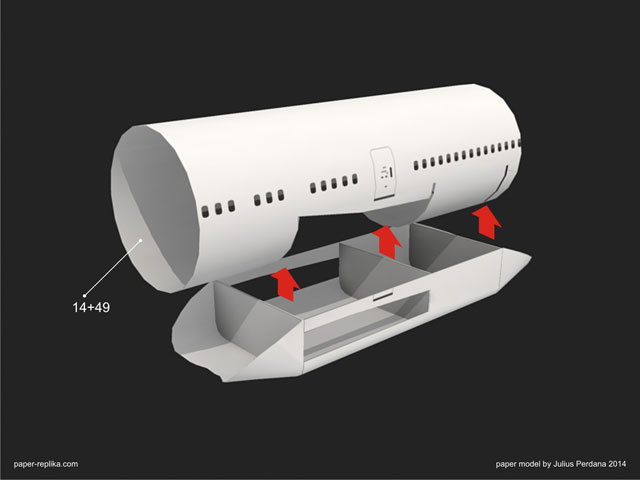 Combine center fuselage section with wing base ans glue them secured. Make sure they are centered.
Assembly the rest of the fuselage, the rear section (15,13,20) glue them together by using inner glue tabs (49,50)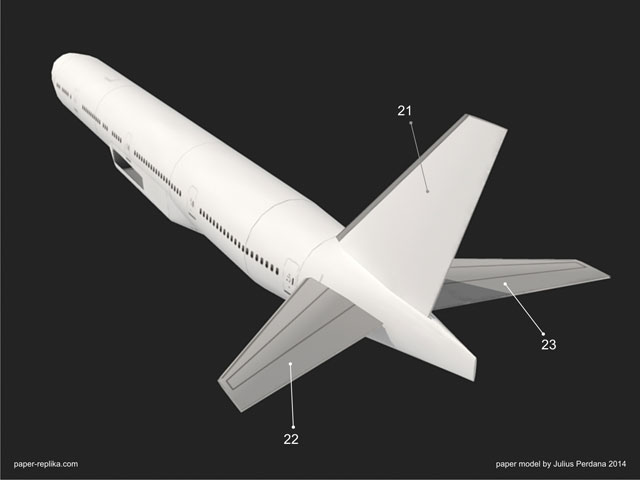 Attach vertical and horizontal stabilizers. Make sure the vertical fin is straight and centered. Glue the horizontal stabilizers a bit angled up.
Assembly the left wing ribs like the image above. Use part 66 and 65 to fix the angle.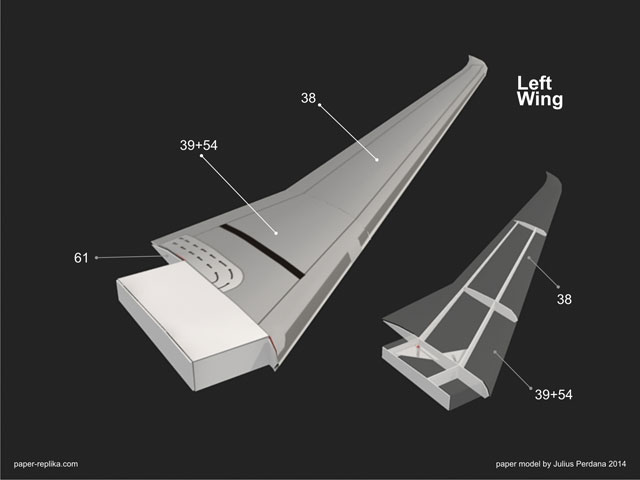 Wrap around the left wing ribs with wing skins part (39 an 38). Use inner glue tab no. 54 for glueing both wing skin together.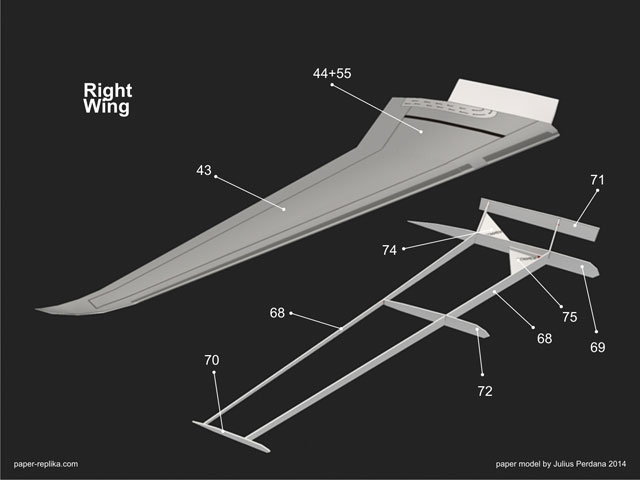 Do the same for the right wing as already done with the left one.
Assembly the left engine part like the image above. Wrap around part 56 using part 24 with printed side on the inside. Assembly the engine shape using inner glue tabs part 53. Wrap around part 57 with part 27. Wrap around part 58 with part 28. Pay attention to the engine pylon, they are different for left and right engine.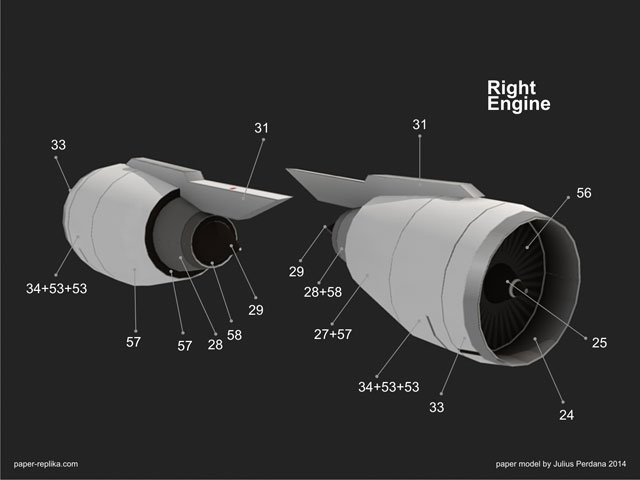 Do the same to the right engine as the left one.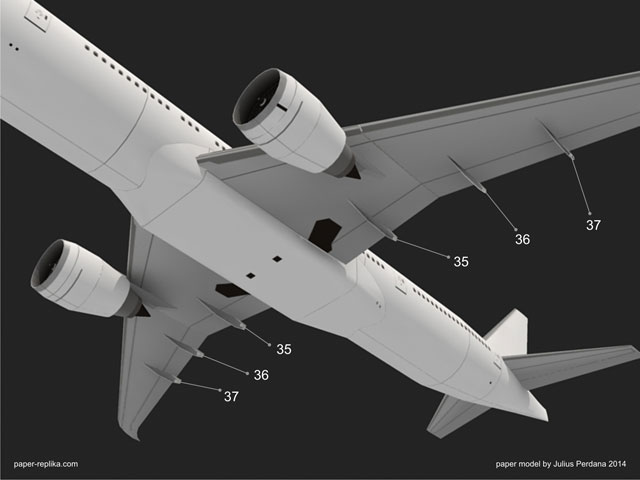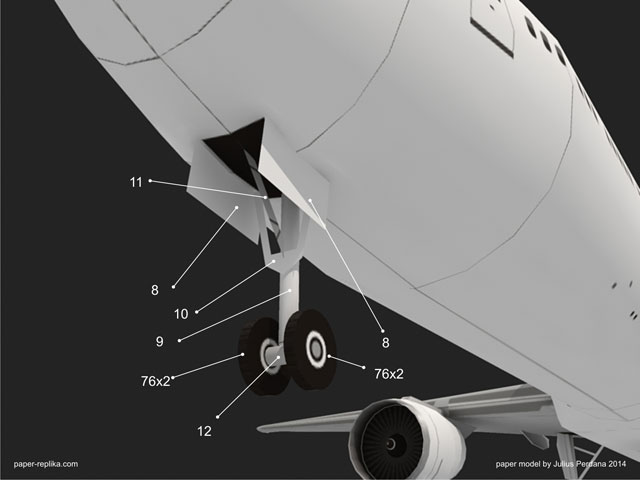 Roll part 9 and 12 from left to right on the patterns. Use 2 part of part 76 for the front tyre.
Roll part 42 and 40 from left to right on the patterns.