Page 1 of 2

Finally after 3 weeks on the making this simple Optimus Prime paper craft template is done. This Transformer action figure is supposed to be release on this afternoon but the file crashed while on saving process on my computer and it is resulting an error in the file so I can't open it anymore. Thanks to our friends, fellow papercraft lovers Pixel Kakashi - papercraft designer from Paperpokes and Ivan (I Fun X treme) who answered my distress call on Paper Replika facebook page in the first minute and for use their time to fixing the file and thanks to Gustavo Silva too for the tips on how to recover a backup file, without you guys perhaps we all have to wait much longer for this template to be complete, because I have to re draw it all over again. Back to the simple Optimus templates, the 3d modelling is pretty easy because I already have the detail one as a reference, but the unfolding and texturing need a lot of time. The template contains 15 pages in A4.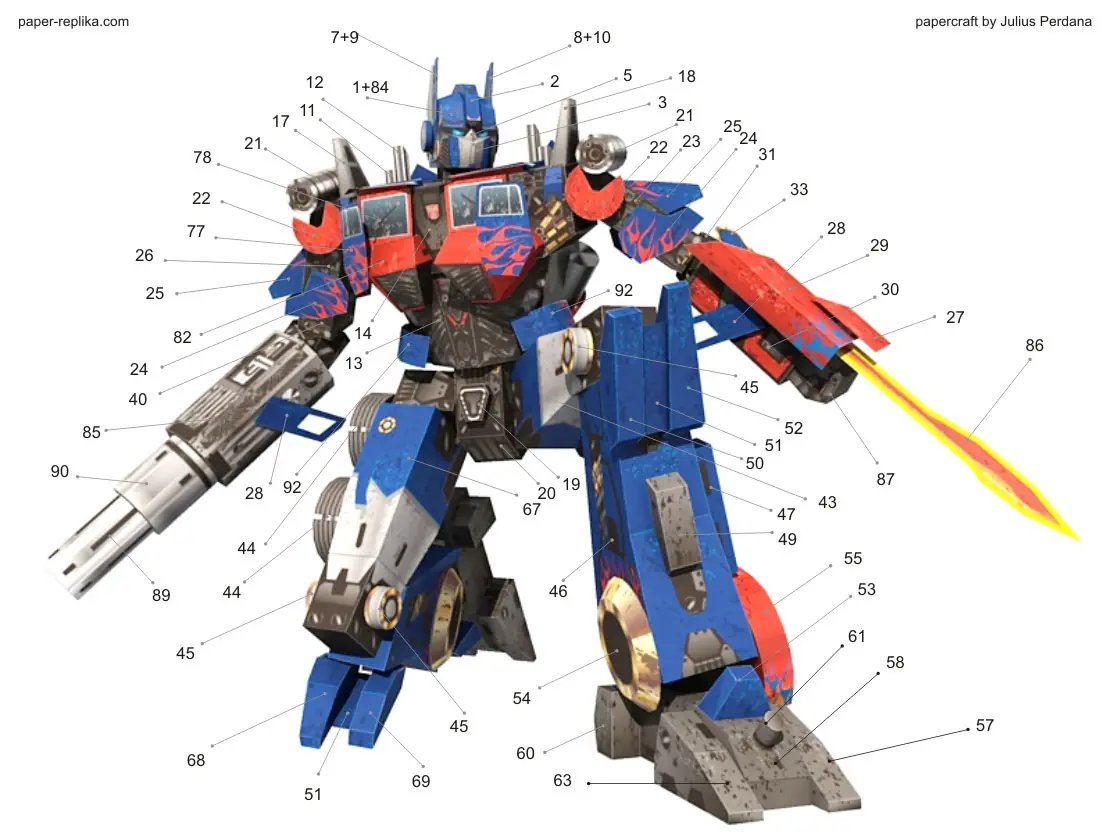 The way he hold the sword is reverse from the movie, I use the movie poster as reference, so the left hand that is holding the sword. You may choose whether to use canon on the right hand or just making just the right hand. Right arms parts is included on the template but are not visible in this assembly instructions, you must figure out yourself. trust me, they are easy to spot :)
Use part 93 to connect part 22 with the shoulders. Part 93 also use to connect parts 28.
You have to bend two part of 92 to become curved then attach them with their connectors to the sides of the abdomen just like the picture above. Their connectors also numbered 92.