Page 1 of 2

I just bought a second handed RC car, a Tamiya TT01. It came with a broken Mazda RX7 body. It gave me an idea to make a body from paper model that will fit on that 257 mm wheelbase chassis, so there are no interior parts in it. Then a friend of mine gave me suggestions for a cool rally car, finally I fixed my decision to make this Honda Civic Type R R3 paper model because it looks very cool, and because the rims are the same as the rims on my RC model car. Although this paper model was specifically designed for TT01 body, it also can be assembled as a stand alone paper model because I also provide patterns for wheels.
The complete model will has 41 cm length and 13 cm height. The livery of this Honda Civic was designed by JAS Motorsport, an Italian racing team. I add a watermark on every images on this post, because I received many reports about some of Paper Replika's model were sold in eBay, which is supposed to be free for download.
On both headlights (5 & 6)  you can choose whether to use paper parts or transparent plastic sheet. If you use this on your TT01 chassis you may want to use transparent plastic sheet for the headlights so you can add LEDs later. Also there are two patterns for the front window (19) , one from paper and the other for transparent plastic sheet.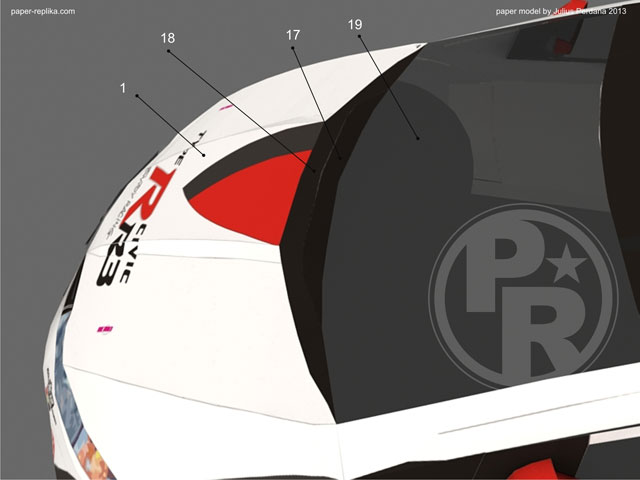 Part 18 and 17 are to be combined in a valley fold form.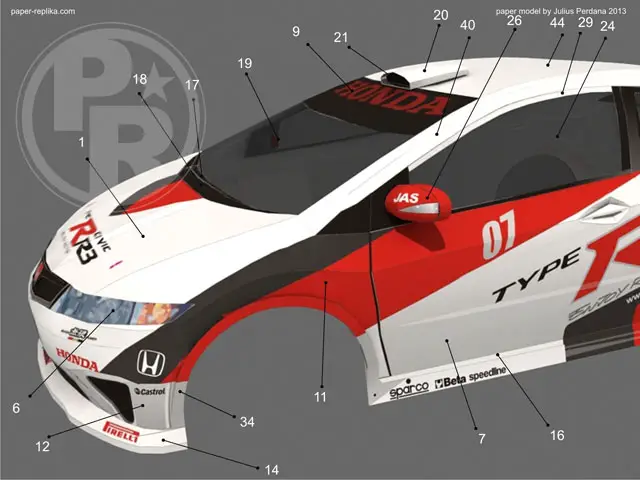 Attach part 16 to 7 first before attaching part 34. Put the side window glass (24), both paper or plastic sheet and then put on part 29.
Attach part 15 to 8 first before attaching part 35. Assembly instruction continue on the next page.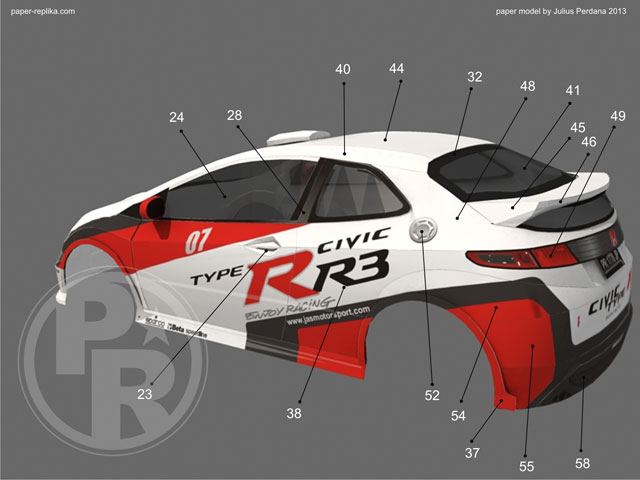 Door handle base (part 23) is a valley fold form.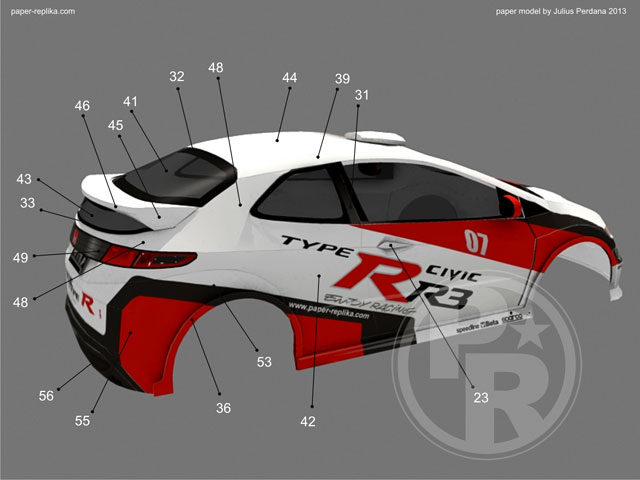 Part 23 also in valley fold form.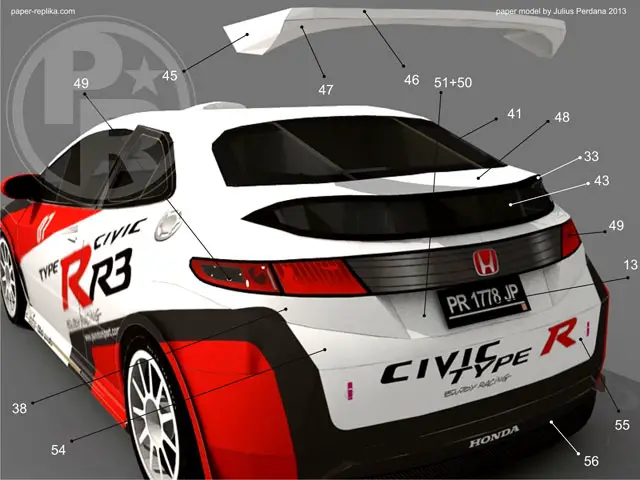 Part 51 is to be combined with part 50. Part 51 is a valley fold form. Part 50 is correspondent with part 51 and 49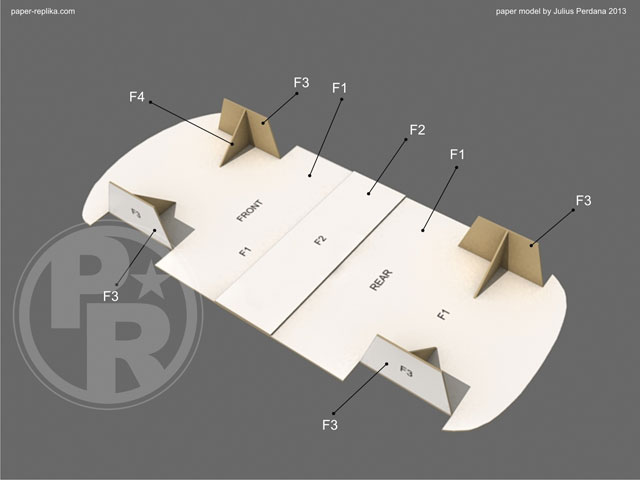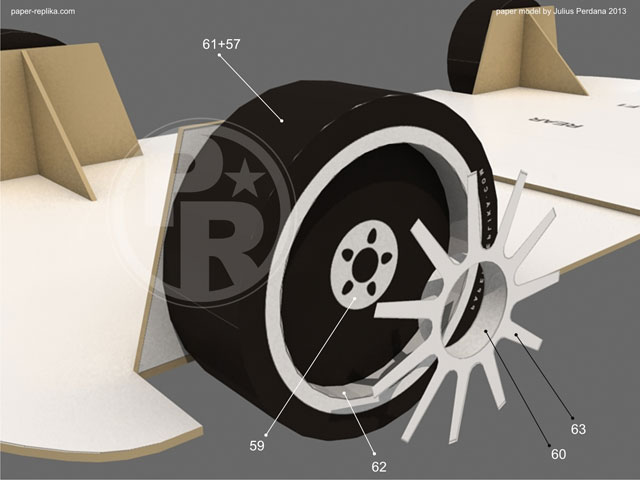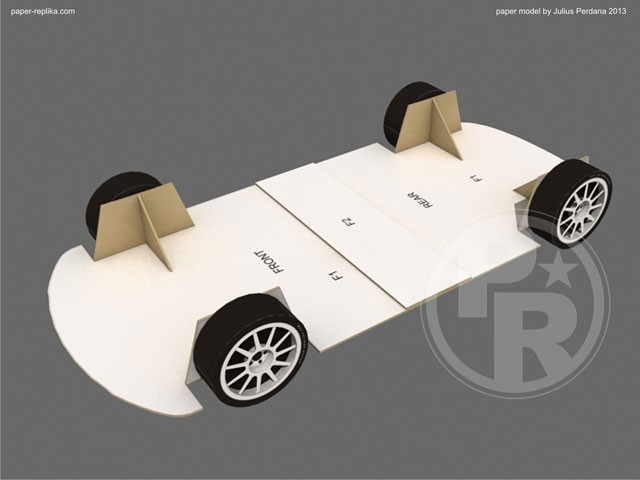 Use 1.5 mm thick cardboard for parts above. This set up is used for a stand alone paper model. If you build this for an RC car body see picture below.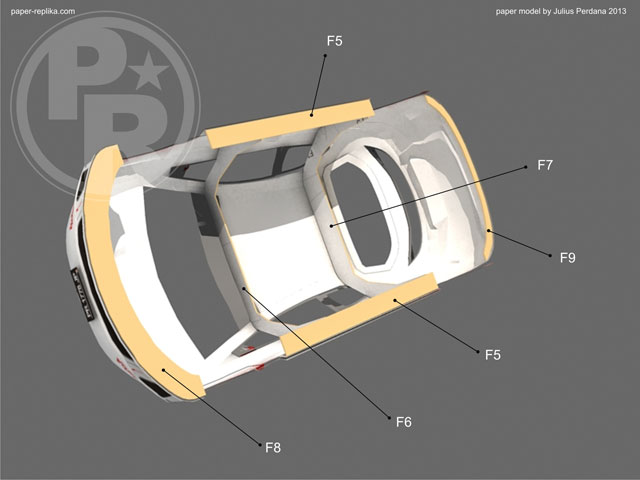 Use also 1.5 mm thick cardboard for those formers. This set up is used for an RC body model.